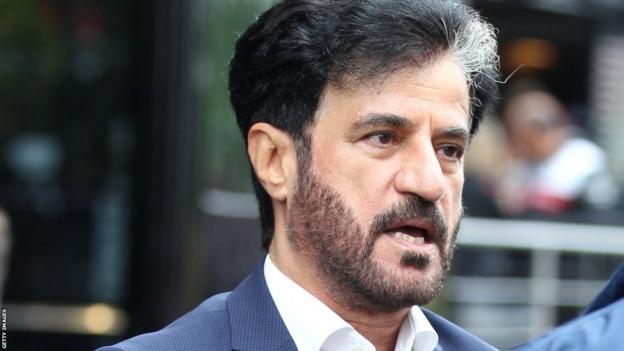 Motorsport's governing body the FIA says sexist remarks attributed to its president "do not reflect his beliefs".
Mohammed Ben Sulayem is quoted on an archived version of his old website saying he does "not like women who think they are smarter than men".
An FIA spokesperson said: "He has a strong record on promoting women and equality in sport, which he is happy to be judged on. It was a central part of his manifesto and actions taken this year and the many years he served as vice-president for sport prove this."
The existence of Ben Sulayem's old website, and the fact it contained misogynistic views, had been discussed by senior figures within F1 since the 61-year-old Emirati became FIA president in December 2021.
But the website's contents had not become public until they were revealed by The Times on Friday.
The newspaper reported that on the site Ben Sulayem says his likes and dislikes are "basically simple", adding: "I love the desert and I love meeting real people."
The website goes on to say that he does not like talking "about money, nor do I like women who think they are smarter than men, for they are not in truth".
The FIA spokesperson said: "The remarks in this archived website from 2001 do not reflect the president's beliefs."
Questions as to whether the website was Ben Sulayem's, whether it accurately reflected his views at the time, and why he had changed his position in the intervening period did not receive a response.
The incident is the latest in a series of controversies that have embroiled Ben Sulayem since he became FIA president.
Earlier this week, he was accused by F1's owners of making "unacceptable" remarks about the value of the sport.
A series of tweets from Ben Sulayem in the wake of a report claiming Saudi Arabia had tried to buy the sport for $20bn said the amount was "an inflated price tag".
The chief legal officers of commercial rights holder F1 and its owners Liberty Media responded with a letter of complaint to the FIA Executive and World Motorsport Council.
It said that Ben Sulayem's comments had "overstepped the bounds of both the FIA's remit and its contractual rights" and added that the FIA "may be liable" for any damage to Liberty's value.
Ben Sulayem has also this year caused controversy by appearing to support a bid by the US-based Andretti organisation to set up an 11th F1 team. Liberty are lukewarm on the bid, pointing out there are other organisations considering an entry, and the majority of the existing teams oppose it.
And among a series of actions that raised concerns at F1 and among the teams last year, Ben Sulayem blocked a unanimous agreement to double the number of 'sprint' format races in 2023 for six months before finally agreeing.