The timing could hardly be any more provocative.
Barely 24 hours after the International Energy Agency (IEA) reiterated in a new piece of analysis that there was no need for new oil or gas projects if the world is to get to net zero, Britain has approved the biggest new oilfield in more than a decade.
Rosebank is not massive by global standards.
It's expected to produce roughly 300 million barrels of oil, which makes it a relative minnow compared with some of the giant fields previously discovered and exploited in the North Sea (to put it into context, Brent produced about three billion barrels, so ten times more).
It will do little to change the overarching trend – that the UK is becoming more and more reliant on imported oil to power its economy.
Indeed, it's quite likely that most of the oil produced at Rosebank will end up being exported to refineries overseas rather than processed in this country.
Even so, it's the first major new field to be approved since the UK committed to hitting net zero carbon emissions by 2050. And it's symbolic in other senses too: it marks the opening of a new frontier in the North Sea.
There aren't many oil fields in the area to the west of the Shetlands.
Rosebank oil and gas field approved


There are good reasons for this: the sea is very deep – more than a kilometre deep for the most part.
It gets incredibly rough, especially in winter, with waves of 50-60 metres. Extracting oil in these conditions is incredibly challenging. But technology has moved on in recent years and Rosebank could, if some in the industry are to be believed, lead to further fields in the area.
It's innovative in other senses too.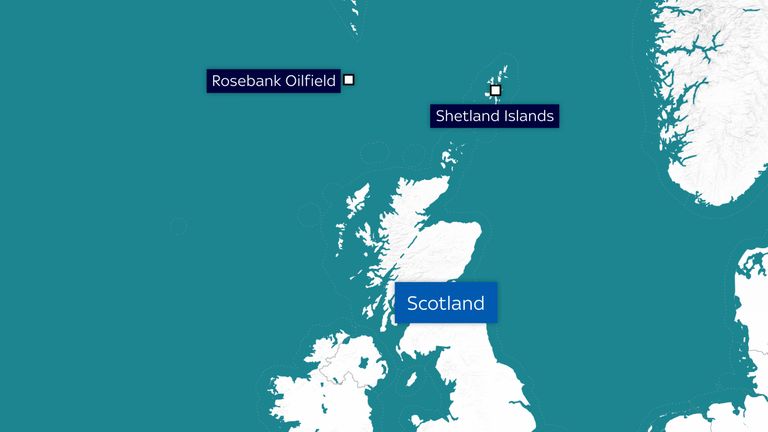 Equinor, the Norwegian state oil company leading the project, says it wants the floating vessel collecting the oil (there will be no traditional oil rig here) to be powered not by oil or diesel but by electricity, potentially generated by local wind power.
That means the carbon emissions generated by each barrel of oil here could be considerably lower than you see in many other fields.
However, none of this changes the fact that at the very point when most countries are shifting towards lower carbon sources of energy, the UK is giving the go-ahead to an oil field which will carry on producing oil even beyond the 2050 point by which Britain is supposed to have brought its total net carbon emissions down to zero.
Labour hits out at oil site development
Indeed, according to calculations by energy analyst Wood Mackenzie, by 2050 Rosebank alone will account for a full third of UK North Sea carbon emissions.
Now, in practical terms, no-one disputes that oil and gas are necessary parts of the economy in the coming decades.
Indeed, we still need oil and gas products to help build the products (from batteries to wind turbines) which will help deliver the energy transition.
But today's decision marks an inflection point.
For years, Britain cast itself as a leader in the energy transition, pushing far faster than most other developed nations to shift to renewable sources of energy and to reduce its reliance on certain fossil fuels like coal.
Read more:
Shift away from fossil fuels would save £10trn
Are shoppers being overcharged for fuel?
Sunak: 'Better to not be dependent on foreign dictators' for oil
In the past few weeks the emphasis has changed, with the failure of the latest set of offshore wind auctions and the Prime Minister's decision to delay the deadline for the end of new petrol car sales to 2035.
It appears Rishi Sunak's government has weakened some of its climate pledges, including delaying the ban in selling petrol and diesel vehicles by five years.

Approving the Rosebank field will not make an enormous difference to the UK economy.
At the margin, it will help to reduce domestic reliance on imported gas (there is gas alongside the oil at Rosebank, but not in large quantities).
It will help support a number of jobs in the offshore industry.
Some of the tax revenues may help bolster the public accounts – though campaigners have argued that if the current windfall taxes expire, this project will actually end up costing the Exchequer rather than benefitting it.
Far more significant than any of this is the politics – the optics, as they are sometimes called.
The UK government has pressed the button on a carbon intensive project at the very point when many other governments are doing the opposite.