As climate solutions go, this has to be the most restful. Go to sleep in one European capital, wake up in another with a virtuous glow alongside your fresh croissant.
I am on the first of a new generation of night trains spreading across the continent, the motive is reducing air travel.
Fewer people are flying than before COVID, but the trends are rising once again.
Carbon emissions per passenger-mile on the train are about one fifth of those on a plane. That is one of the driving forces for Chris Engelsman, the founder of this crowd funded company: The European Sleeper.
"It's sustainable and pleasant travelling, and we really believe it will be profitable," he said. "The night train is very important because you can cover a longer distance – going all the way to Barcelona, Milan, Prague, Copenhagen, and it's still time efficient.
"So it's very good competition for aeroplanes. We don't need to persuade everybody to come by train: just 5% of current air travellers would make us fully booked every day."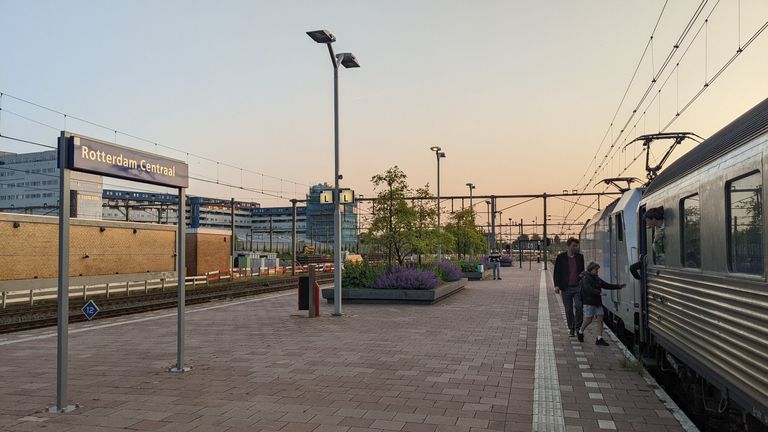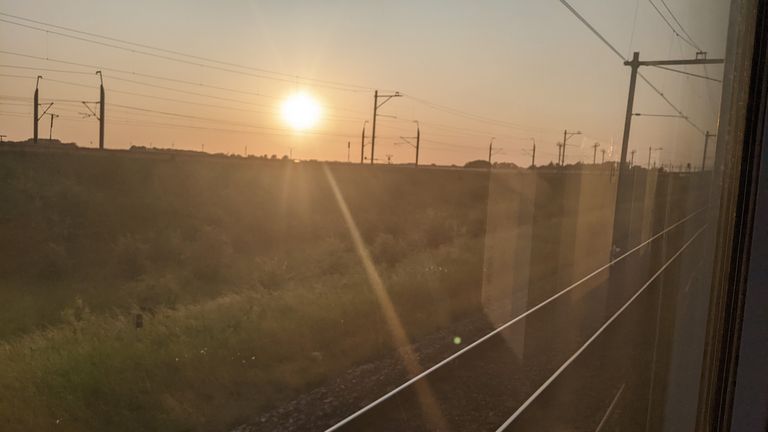 Aiming for affordability
This inaugural service is a strange mix between the luxurious and the spartan.
Night trains inevitably evoke images of retro-glamour, especially if, like me, you've watched too many James Bond films or read too many Agatha Christie novels.
The bunk beds are comfortable, the sheets are crisp and there is a revelatory vanity unit, hidden in a corner cabinet, complete with mirrors on three sides. But the rolling stock is decades old, rented from across the continent and, sadly for those hoping for decadent dining room encounters, doesn't include a restaurant car.
It costs £70 for a bed in a shared compartment, and double that for a room of your own.
The European Sleeper company is tendering for the construction of new carriages, but Mr Engelsman says they'll aim for affordability rather than top end.
"We decided not to go luxurious as we want this to be for average people, accessible for everybody. We want to have a dining car in the future as we call this the 'Good Night Train' and we need to develop a good 'night club' alongside."
Once in a state of seemingly terminal decline after the explosion of budget flights – Europe's night trains are having a moment.
Fuelled by a demand for greener travel options – new routes are now once again snaking across the continent – including my train from Brussels to Berlin.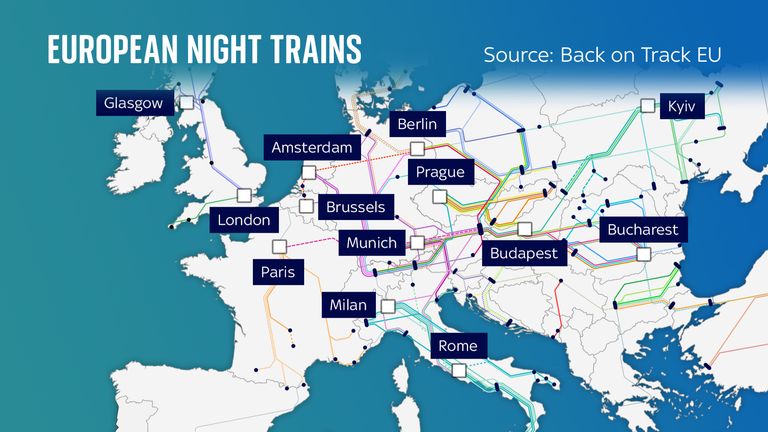 'The greenest way to cross Europe'
The expansion of night trains has support from the EU as part of its mission to cut the continent's carbon footprint.
France has just banned short haul flights on journeys that take less than two-and-a-half hours by rail. And the Belgian government is promising to subsidise night trains like this. Their deputy PM and transport minister, Georges Gilkinet, was aboard.
"We have just voted in the parliament to help night trains to develop, by paying for the track pass and the energy cost," he said. "It's the greenest way to cross Europe and there is a great demand with the trains booked up for months.
Click to subscribe to ClimateCast with Tom Heap wherever you get your podcasts
"We want to make Brussels a hub for night trains. We already have one to Vienna, this one to Berlin and a future service to Southern Europe".
That service is a train which 'European Sleeper' are planning to run to Barcelona. It will stop in Lille – an easy link to the UK, as it's just one hour and 20 minutes from London.
But there are no plans yet for new services direct from the British capital. Different carriage size regulations and the cost and bureaucracy of using the Channel Tunnel make it uneconomic at present.
I knock on my neighbouring compartment door to talk to Mark Smith, founder of the train enthusiasts website, "The Man in Seat 61", to get his view on the attraction of being a night-rider.
"It's so practical – leave a city centre in the evening, sleep the night away in bed and arrive the following morning in a completely different country," he said. "It's nothing like the stresses of getting on a plane. It's about enjoying the journey as well as the destination".
Read more from Sky News:
England not ready for extreme summer heat
Greta Thunberg to return to Scotland
Crackdown on 'zombie' energy projects blocking Grid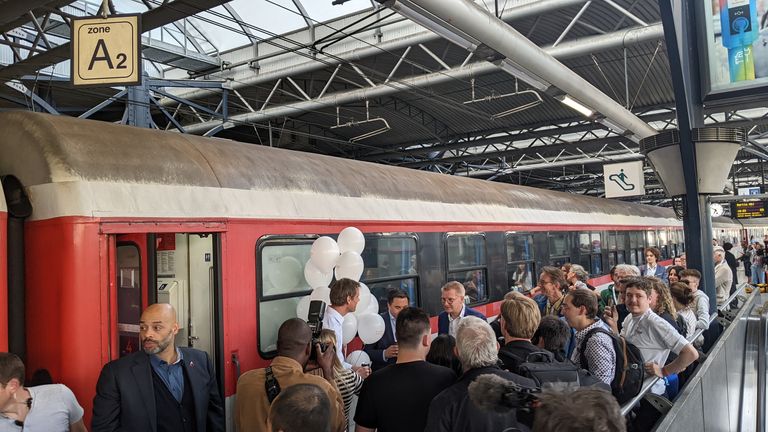 This service takes the long way round to Berlin, picking up passengers in Antwerp, Rotterdam and Amsterdam.
My slumber is briefly broken by a few bumps in the night, but I feel well rested as I awake in the outskirts of the German capital.
Bond villains remained confined to my dreams, not lurking in the luggage rack.
Watch The Climate Show with Tom Heap on Saturday and Sunday at 3pm and 7.30pm on Sky News, on the Sky News website and app, and on YouTube and Twitter.
The show investigates how global warming is changing our landscape and highlights solutions to the crisis.