Serbia has condemned NATO-led peacekeepers in neighbouring Kosovo for allegedly failing to stop "brutal actions" by Kosovo's police against ethnic Serbs.
More than a dozen people were injured in violent clashes on Friday.
The violence erupted when ethnic Serbs tried to block recently elected Albanian mayors from entering local government buildings.
Police fired tear gas to disperse the crowd and let the new officials into the offices.
Several cars were set on fire during the disorder.
Countries including the UK, US, France and Germany condemned Kosovo, saying using force to install mayors in ethnic Serb areas undermined efforts to improve troubled relations with neighbouring Serbia.
Snap local elections were called last month. They were largely boycotted by ethnic Serbs and only ethnic Albanian or other smaller minority representatives were elected.
In response to the clashes, Serbian president Aleksandar Vucic ordered troops closer to the border with Kosovo and said they would remain at the "highest level of combat readiness".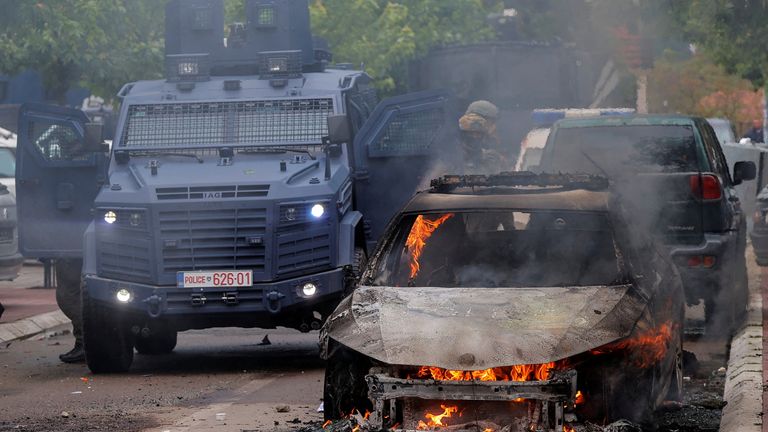 In a statement after a meeting of Serbia's top political and security leadership, Mr Vucic also said NATO-led troops "did not do their job" to protect the Serbs.
This is not the first time Mr Vucic has warned that Serbia would respond to violence against ethnic Serbs, and he has stepped up combat readiness several times during moments of tension with Kosovo.
However, any attempt by Serbia to send its troops over the border would mean a clash with NATO troops stationed there.
Kosovo's prime minister, Albin Kurti, defended the police action.
"It is the right of those elected in democratic elections to assume office without threats or intimidation," he wrote on Twitter.
"It is also the right of citizens to be served by those elected officials. Participation – not violent obstruction – is the proper way to express political views in a democracy."
Read more world news:
Crocodile farmer torn to pieces
Papuan fighters threaten to shoot hostage
Singer shot in head after rejecting man's proposal
On Saturday, NATO urged Kosovo to dial down tensions with Serbia.
"We urge the institutions in Kosovo to de-escalate immediately & call on all parties to resolve the situation through dialogue," spokeswoman Oana Lungescu said in a Twitter post.
She said KFOR, the 3,800-strong NATO-led peacekeeping mission in Kosovo, would remain vigilant.
Almost a decade after the end of a war there, many Serbs in Kosovo's northern region do not accept Kosovo's 2008 declaration of independence from Serbia and still see Belgrade as their capital.
Ethnic Albanians form more than 90% of the population in Kosovo, with Serbs only the majority in the northern region.