Pope Francis is "progressively improving", the Vatican has said, after he was admitted to hospital with a respiratory infection.
Spokesman Matteo Bruni said the 86-year-old – who had part of one lung removed as a young man – had rested well overnight.
He ate breakfast, read the newspapers and was working from his room at Rome's Gemelli hospital, according to a statement.
"Before lunch he went to the little chapel in the private apartment, where he gathered in prayer and received the Eucharist," Mr Bruni added.
The pontiff had complained of breathing difficulties in recent days and went to the hospital on Wednesday for tests where he was diagnosed with a respiratory infection, though not COVID-19.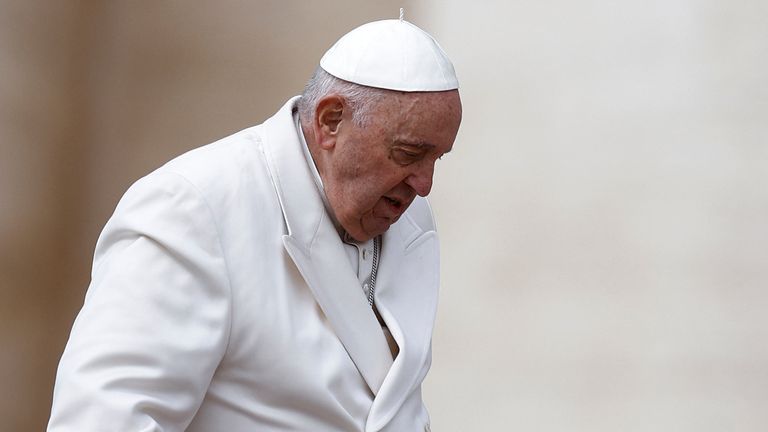 The Vatican said he would remain for a few days of treatment, and his audiences were cancelled until the weekend.
Pope Francis is due to celebrate Palm Sunday this weekend ahead of the Vatican's Holy Week observances: Holy Thursday; Good Friday; the Easter Vigil; and Easter Sunday on 9 April.
It is not clear how his medical condition will affect the Vatican's Holy Week observances.
Read more World news:
Bolsonaro arrives back in Brazil with several investigations looming
King makes history as first British monarch to address German parliament
Marvel star gives first interview since snow plough accident nearly killed him
The last time he stayed at the hospital was in 2021. He spent 10 days there following surgery for an intestinal narrowing, when 33cm (13in) of his colon was removed.
The pontiff has used a wheelchair for more than a year due to strained ligaments in his right knee and a small knee fracture. He has said the injury is healing and has been walking more with a cane lately.