I'm still working on the floor in the studio, and hope to have that finished in the next few days. So, of course, I'm thinking about the next steps towards getting the studio finished. The next steps include painting the ceiling and walls, putting up the new wallpaper, installing the lower cabinets, and building countertops.
Most of that seems pretty straightforward. The ceiling is going to be white (Behr Ultra Pure White). The walls are probably going to be white (Behr Polar Bear). That's the easy stuff. But then I get to the wallpaper, and for the life of me, I can't seem to make a decision.
Don't worry. I'm not still redesigning the wallpaper. My mom and I have made all the tweaks that we're going to make to the design, and I'm in the process of working with a company to get it printed just like I want it for the long wall in the studio. (More on that later.) If you missed those posts, my mom and I just tweaked the colors some (mainly so that the dark purple flowers would actually look like flowers from a distance and not just dark purple blobs of nothingness. And then I'm having it printed larger so that the flowers are much bigger and there are fewer repeats in the pattern.
So the wallpaper redesign is finished. There will be no more editing of that wallpaper. And it's going right back up on the long wall where the original wallpaper was. Nothing about that plan had changed.
The issue that I'm trying to decide is whether or not I want to put the wallpaper in another area of the room, and specifically, I'm thinking about putting it in the back entry. I just can't decide if that's a really bold and awesome thing to do in a studio that is all mine and that I get to design only to suit myself, or if it's just way too much. And while I'm generally not opposed to trying something and redoing it if it doesn't quite work out, that's just a lot of money to spend on a test.
I tried to do a mock up to see what I think, but of course, seeing a photo (and especially a very bad mockup) is vastly different from seeing something in real life, and actually standing in the room where you can see much more of the room than you can see in a photo. But for now, it's all I have.
This is the picture that I started with. This is the back entry pretty much as it looks now with the painted black and white chevron floor, very green walls, etc.
I'm glad to be getting rid of this look because it just looks and feels dark and heavy to me. I haven't gotten to the floors in this part of the room yet, but keep in mind that the floors are actually white and super light gray checkerboard. Here's a peek in case you missed yesterday's post…
And here's the overall plan as to how the main room will coordinate with the back entry, storage closet, and half bathroom…
So with all of that said, here is my very bad attempt at a mock up to give us an idea of what a wallpapered back entry might look like, but keep in mind that the bathroom walls will be changing also…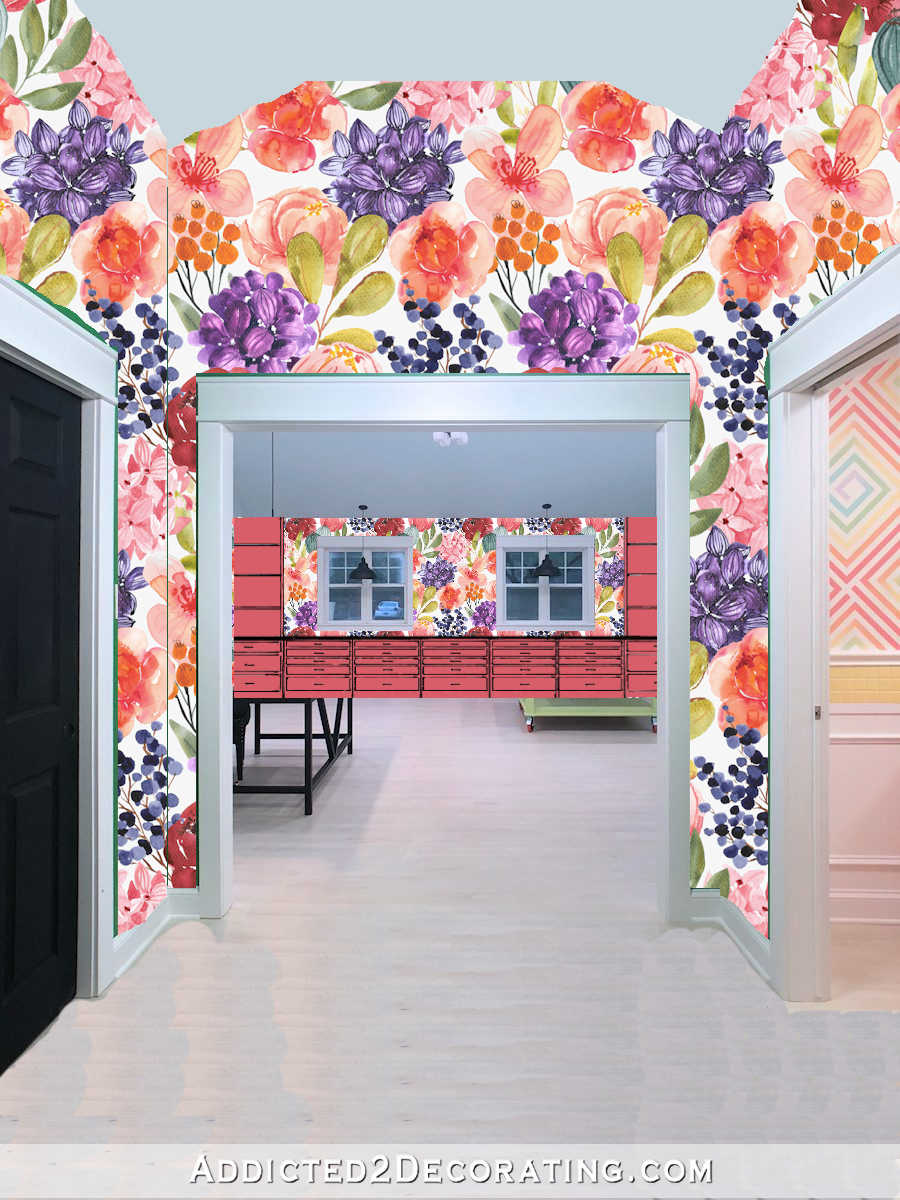 It's just so hard to decide because I do like a whole lot of color, and I do tend to like things a bit on the busy side. I like more pattern and color than the average person does. But there's definitely a point at which things can be too much even for me.
And again, things look and feel so much different when standing inside a real room than they do when looking at pictures or mock ups. For example, from that photo/mock up above, you don't get any sense at just how big that main room is, and you can't tell just how much white will be in the room once the ceiling and all of the other walls are painted white. So it's just so hard for me to determine, based on a mock up, if this is busy and crazy and colorful and fun in a good way, or if it crosses that line into "too much" for my color- and pattern-loving self. I kind of want to go for it.
The second thing that I keep second-guessing is the countertop issue. I had thought that the decision was made, but then y'all keep sending me ideas!! 😀 Y'all aren't ever allowed to get frustrated with me and my indecision because you contribute to it with all of the amazing and creative ideas you send me! 😀
I've had so many emails and DMs on Instagram with some really creative countertop ideas, but one really stood out to me, and I can't seem to stop thinking about it. But if I use this idea, it will result in black countertops. So what do we think about black countertops for the studio? The mock up above gives an indication of what black countertops would look like in the room. They would tie in with the light fixtures in the room, and I'll probably also keep all of the doors in the room black as well.
But here's the idea that was sent to me yesterday. I've seen this process done on exterior siding and furniture, but this was my first time seeing countertops made with this process.
I haven't been able to stop thinking about that. It would probably be the cheapest option of all of the ones I've considered, and it would be fun! I've never tried the charred wood look before, and I love trying new things. I just hadn't considered black countertops before (I had only considered white or light to medium wood tones), so getting my head around black is just a complete change from what I had pictured. But it could look really amazing! Should I consider it?