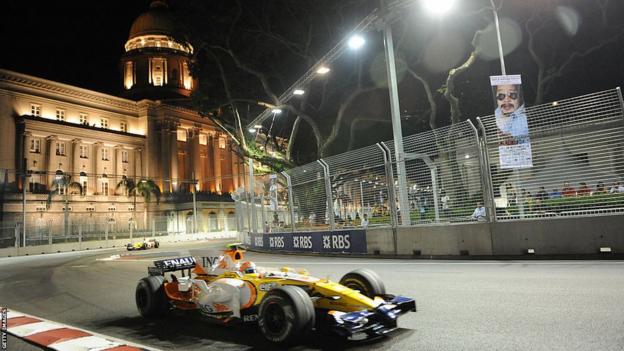 Ferrari team principal Frederic Vasseur believes it would be "strange" to change the results of the 2008 world championship 15 years later.
Former Ferrari driver Felipe Massa is taking legal action against Formula 1 bosses and is seeking compensation for the 'crash-gate' scandal.
Massa's lawyers claim he lost the title to Lewis Hamilton because Renault fixed the Singapore Grand Prix.
Vasseur said it was a "tricky" topic with "exceptional" circumstances.
He added: "I am not a big fan of changing the result 15 minutes after the flag [let alone 15 years]."
In a letter seen by Reuters news agency, Massa's legal team says it is seeking damages reaching into the tens of millions of dollars for what they claim is a "conspiracy" that denied him the 2008 title.
Massa's actions stem from an interview with former F1 boss Bernie Ecclestone earlier this year, in which he said he and then-FIA president Max Mosley knew that the crash by Renault's Nelson Piquet Jr which turned the Singapore Grand Prix on its head was deliberate, but took no action.
Ecclestone told Reuters he could not remember saying what was attributed to him.
Piquet revealed during 2009 that his crash was deliberate and his actions led to an investigation which resulted in Renault team boss Flavio Briatore and chief technical officer Pat Symonds being banned from F1 for a number of years. Both have since been permitted to return to the paddock.
Piquet's crash triggered a safety-car period which helped his team-mate Fernando Alonso vault to the front, from where he went on to win, though a subsequent investigation found Alonso had no knowledge of the plot.
Massa had been leading the race but errors during his pit stop under the safety car led to him leaving the pits with the fuel hose still attached to his Ferrari, forcing his retirement. The Brazilian went on to lose out to Hamilton in the championship at the final race of the season by a single point.
Vasseur addressed a question on the situation in a news conference on Tuesday by drawing parallels with current attempts by stakeholders to "push the FIA to know the result of the event at the chequered flag".
Trust in FIA on cost cap
F1 returns from its summer break for this weekend's Dutch Grand Prix awaiting the results of the FIA's investigations into whether any teams breached its cost cap last season.
Red Bull were punished last year with a $7m (£5.49m) fine and a 10% reduction in permitted aerodynamic research when they were found to have breached the 2021 cost cap by $1.86m (£1.46m).
There has been speculation that at least two teams are in breach of the 2022 cost cap in one way or another, but the FIA insisted before the summer break that investigations had not concluded.
Vasseur, who has previously said Red Bull's punishment last year was "very light", said: "Do I have concern? No, because I think the FIA made a communication in July and explained that the results of the investigations will come by the beginning of September or something like that. It was a matter of weeks and the plan was the beginning of September."
He added: "I fully trust they are doing their job and will come with the results as per plan."
Vasseur pleased with Ferrari progress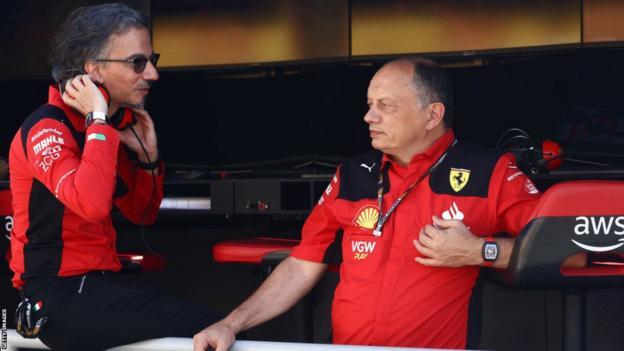 Ferrari have been in the up-and-down group lagging behind dominant Red Bull so far this season, but Vasseur said he was pleased with his squad's reaction to a difficult start to the year and is confident they will improve into 2024.
Vasseur, who took over from ousted former team principal Mattia Binotto in January, said: "Everyone was pushing in the same direction. In terms of performance compared to Aston Martin for example, in Jeddah [at the second race of the season] they were much faster than us, but now we are generally in front of them.
"The reaction was a good one but the most important [thing] is that the spirit of the team was a good one. We have to continue the development in this mindset and to avoid internal fighting."
Vasseur said Ferrari had some performance upgrades to come before the end of this year, but not at the forthcoming races on consecutive weekends at Zandvoort and Italy's Monza track on 1-3 September.
Ferrari have switched parts of their car to a design approach that follows that pioneered by Red Bull during the course of this season, and Vasseur admitted Ferrari were pursuing a different design direction on their car for next season.
"The 2024 car is a different project," he said, "and even if we have some carryover from one car to the other, the projects are completely different."




The post F1 crashgate: Frederic Vasseur says it would be 'strange' to change 2008 title result appeared first on Patabook Sports.